 "It Ain't Hard to Tell"
Shook Ones Pt. II
It Ain't Hard to Tell – Shook One's Pt. II
6.28.23
All early 90's hip-hop fans know the sound. It sounds just like the beginning of the video, with the stove pilot ticking away. Tick tick tick tick tick tick tick…
The beat slowly introduces itself with a steady yet tricked out snare cadence. The samples sound like they're from some creepy alley, that alerts your goosebumps to the coming fire. But then comes the pluck of the guitar strings. The sharp yet grooved out rhythm puts the "screw-face" look on you as it begins to rise in melody.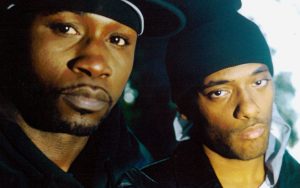 Havoc and Prodigy begin with a clear message of where they're from and the perils young black youth faced every day, in what most NY rappers referred to as, "the belly of the beast".
"Shook Ones P. II" embodied that fragility of the encounters the hood had to navigate daily, all while mastering the breaks, beats, and samples at the disposal of the legendary Alchemist.
Shook One's was a masterpiece at first contact! You knew this was different. Even today, when the stove pilot begins to tick, the hairs on your forearms begin their electric dance, because you think that knock about to happen!
To me, this track deserves heavy top 10 "best hip-hop song ever" consideration. It shocked the airways when it arrived (It ain't hard to tell!). It maintained its dominance for years. And it remains a "TURN THAT UP" track at the first sound of it.
Peace to the rap icon "Prodigy"!
Written by Mr. Carmichael