 "It Ain't Hard to Tell"
Westside Gunn
Westside Gunn 
This week's "It Ain't Hard to Tell" piece is about one of my favorite artists, as well as one of my favorite songs.. ever. If you don't know him by now, Westside Gunn is a Buffalo, New York native, one-third of one of today's biggest rap groups Griselda, and, well, he's FlyGod. One of the best things about Gunn's music, is, and always will be his beat selection. With Gunn surrounded by some of the best producers currently in the rap industry such as The Alchemist, Daringer, Conductor Williams, and Camoflauge Monk, it's almost impossible for him to miss. Speaking of The Alchemist, today's article will be about the track, "Elizabeth" by Westside Gunn (produced by The Alchemist). 
For the people out there that may not know too much about Westside Gunn, other than his passions for rap, fashion and art, he's also a huge wrestling fan. "Elizabeth" is one of many tracks within his discography that's named after an iconic figure within the wrestling world, this one is named after WWE Hall of Famer Randy Savage's ex-wife (who was also his ringside manager). A remixed version of "Elizabeth" opens with the audio of Randy Savage speaking to his fans and Elizabeth as he's about to propose to her. At this point in his career, Randy had been in the wrestling industry for over a decade, his resume spoke for itself. His career was beginning  to take off in a different direction with some of his biggest matches and storylines, all with Elizabeth by his side. Due to his age and tenure, this half of his career was different, he was no longer the young superstar, but the veteran that allowed the younger stars to come in and learn from him in the ring.
 Similar to Randy, Westside Gunn had been in the rap industry for over a decade, but hadn't yet received his flowers.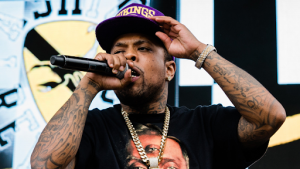 Gunn dropped "Elizabeth" in 2018, while he was still on the rise to developing into the artist that he currently is. Once Griselda dropped "WWCD" a year later, Gunn's audience grew tremendously. This allowed him to continue to grow as he released seven more solo projects. This also opened up the opportunity for him to take a step back on a couple of his solo albums, and shed light on up-and-coming talents involved with Griselda Records such as Rome Streetz, Mach-Hommy, Stove God Cooks, Boldy James, and Armani Caesar. Aside from the gun adlibs scattered throughout his music, Westside Gunn is always telling his audience a story. In this case, as I interpret it, Gunn was easily foreshadowing the rise of not only him, but Griselda, Griselda Records, and everyone affiliated with their movement. 
Since the release of both Westside Gunn's "Supreme Blientele" (2018), and Griselda's "WWCD" (2019), everything surrounding Griselda has turned into gold. Conway the Machine's albums have only increased in replay value. Benny the Butcher has gone mainstream and has landed some of the best features for his solo works such as J. Cole, 2 Chainz, Fat Joe, Rick Ross and Lil Wayne. Then, every newer Griselda affiliate has been making names for themselves with their own projects, and their features on various Griselda projects and singles; specifically Rome Streetz, who without a doubt had one of the best rap albums of 2022 ("KISS THE RING"). Even through WWF/WWE references, Westside Gunn can have you thinking about his words in a different light. The parallel connection between Randy and Gunn's actions for their careers will always be fascinating.