 "It Ain't Hard to Tell"
JAY-Z
17 May 2023
Jay-Z
If you haven't noticed yet, there's been somewhat of a theme when it comes to my blog posts. Outside of a few of these pieces, most of my posts have revolved around the competitive nature of the rap industry (specifically within the 90s/2000's era). The competitive nature being discussed is something we don't really see or hear in today's rap music. Which is why it's important to not only revisit these specific eras of rap music, but to also highlight some of the greatest moments, bars and verses from some of the best artists we've had the honor of listening to. In terms of diss records, for years many rap fans have been debating over what they believe the best rap beef was. This week's "It Ain't Hard to Tell" will focus on a top five rap beef of all-time, a rivalry that most thought would go unresolved until the end of time, Jay-Z versus Nas.
When it comes to this rivalry, there's debates that are formed at all angles: album sales, lyricism, better discography, etc. The most popular debate of them all, is whether Jay-Z's "Takeover" or Nas' "Ether" is the better diss track. In my personal opinion, "Takeover" is the better track, it's factual and a lot more personal than "Ether", in which Nas mainly made fun of Jay-Z.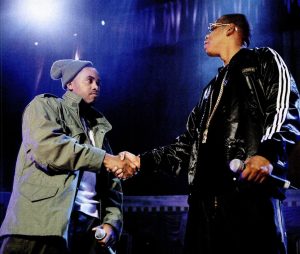 Therefore, I'll be dissecting a couple of bars from "Takeover" that may or may not have gone over some people's heads.This first bar is a bit more obvious than the next one that's being discussed, in "Takeover", Jay-Z says, "You made it a hot line, I made it a hot song." This is a reference to Nas' bar on "The World is Yours" (1994) in which he says, "I'm out for presidents to represent me." Which was later sampled on Jay-Z's "Dead Presidents II" (1996).
Again, the first bar was a bit obvious to old school rap fans, but this next bar was a personal low-blow to Nas, and anyone within Nas' inner circle probably knew that immediately after hearing it. Jay-Z low-blow bar goes, "..because you know who, did you know what, with you know who. But just keep that between me and you, n***a." This was a reference to Jay-Z being in a relationship with Nas' first baby mother (Carmen Bryan) while they were still together. In 2017, Carmen Bryan explained how everything unfolded in her relationship with Nas, she even acknowledged that although she didn't feel bad for cheating (since they were both cheating according to her), she felt that she was cheating on Nas with the wrong men. According to Carmen, at the time of her cheating on Nas, she felt that all of Nas' rap peers were her peers as well, while not taking note of the fact that her actions could potentially create a divide or tension between Nas and his peers. Throughout the time spent talking about this during the interview, it's almost as if she's inferring that she was the reasoning behind the beef in the first place; it honestly doesn't seem too far-fetched.