 "It Ain't Hard to Tell"
This Thing of Ours 
Mike the Visionary 
21 June 2023
This Thing of Ours 
Stemming from the earliest days of sampling, some of the most iconic films and TV shows can be heard within rap music. A lot of my favorite samples originate from mob films and television shows, such as The Sopranos. Within the show, main character Tony Soprano often refers to the relationship he shares with his patrons as "this thing of ours", which is similar to the recurring theme in producer The Alchemist's feature list. Anyone that listens to The Alchemist knows that although he's worked with numerous artists throughout the years, he's consistent with who he works with. Film director Martin Scorsese has always surrounded himself with elite talent such as Robert De Niro, Joe Pesci, Harvey Keitel and Leonardo DiCaprio. I don't think there's one Scorsese film that doesn't feature at least one of those four actors gracing the big screen. The Alchemist also has a circle of individuals that he consistently works with including Action Bronson, Griselda, Boldy James, Earl Sweatshirt, and before his passing he had Prodigy of Mobb Deep. 
The Sopranos is one of, if not, one of the most used mob related cinema that's heard in The Alchemist's music,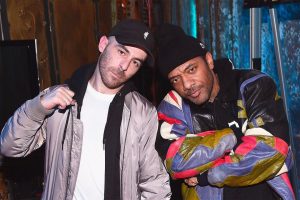 a few of these samples can be heard in tracks such as "Loose Change" (featuring Earl Sweatshirt), "TV Dinners" (featuring Boldy James and Sideshow), "Moth in the Flame" (featuring Boldy James), and "Level Tipping Scales" (featuring Boldy James).  The correlation between the basic morals of mobsters and the relationship that The Alchemist shares with his peers seem to be quite evident. Not only do they love what they do, but they love one another. From the studio time he shares with these men, to exploring life through culinary arts on shows such as "F**k That's Delicious", or even making appearances on "Loiter Squad", it seems as if the bond The Alchemist and his peers share will never be broken as the music they make continuously improves. 
#HipHopandBarbershops